Columnar trees are popular for landscaping and gardening and continue to rise in popularity yearly. That's why you want the best columnar trees for your needs.
The versatility and usefulness of the best columnar trees are hard to match. But with so many different varieties out there, it can be hard to know what columnar tree will work best for you.
That's why we've done the footwork for you! Read on for our top picks of the best columnar trees for your home garden, things to consider when purchasing and planting them, and more.
---
Our Top Picks
Best Overall:
Cryptomeria Radicans
Best Columnar Apple Trees:
Stark Bro's "Spire" Series
Budget Columnar Tree:
North Pole Arborvitae
---
Best Overall
Cryptomeria Radicans
When it comes to choosing the best columnar trees for your garden, there are several different factors to consider. For example, you may want a long-lived and fast-growing tree. Adaptability and disease resistance are also a must!
In addition, you want a columnar tree that fills plenty of space without sacrificing that classic high, well-groomed column shape. For checking all these boxes and more, we recommend Cryptomeria Radicans as the best columnar tree overall.
This columnar variety grows 3 to 4 feet per year, can withstand many harsh weather conditions, offers great coverage and windbreak, and thrives very well in many climates throughout the United States.
No matter what your needs are for the best columnar trees in your home garden, the Cryptomeria Radicans are likely to meet most, if not all, of them.
Pros
Fast-growing and long living
Easy to care for
It covers a good deal of space per tree
It has soft, attractive, feathery foliage without losing any density
Great for border landscaping, privacy, and windbreaks
Cons
No consistent complaints to speak of
---
Best Columnar Apple Tree
Stark Bro's "Spire" Series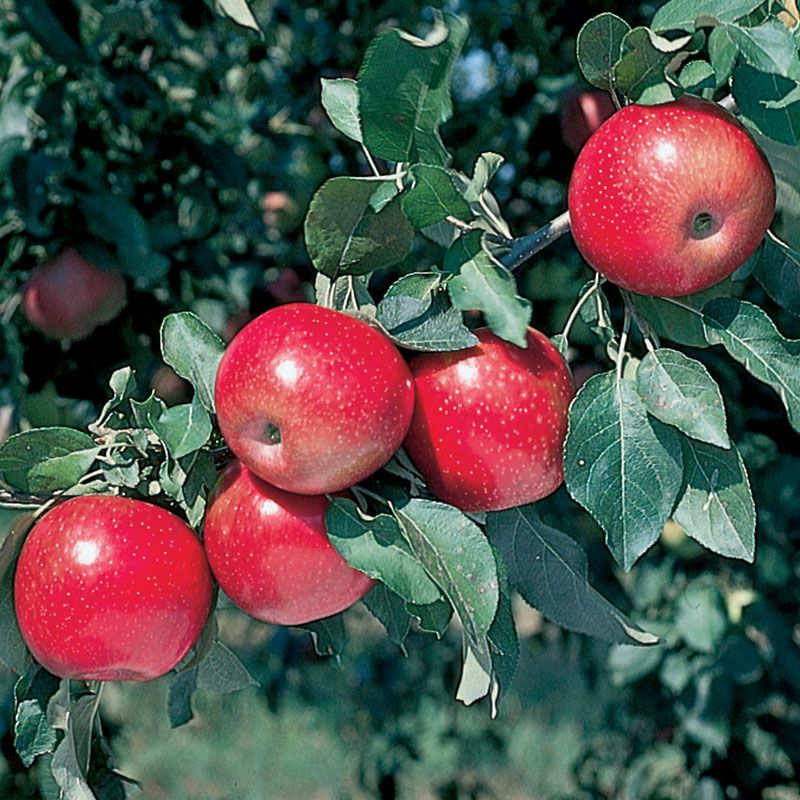 Stark Bro's offers the best columnar apple trees, providing a variety of options to suit every gardener's needs. These trees are perfect for urban gardens, small spaces, and container growing. Four popular types include the Stark Crimson Spire, Stark Scarlet Spire, Stark Ultra Spire, and Stark Emerald Spire Apple Trees.
The Crimson Spire Apple Tree produces full-sized, tangy apples with crisp white flesh, perfect for fresh eating and making apple juice.
The Scarlet Spire Apple Tree bears bright blushed red over green apples that are excellent for eating fresh, homemade apple sauce, and juicing.
The Ultra Spire Apple Tree is the most compact columnar apple tree, with bold red apples and creamy flesh that are perfect for baking, making sauce, and other preserves.
Lastly, the Emerald Spire Apple Tree bears attractive green apples with a beautiful golden blush, which are excellent for fresh eating and homemade apple sauce.
All four columnar apple trees share similar characteristics, reaching a mature height of 7-10 feet and a width of 2-3 feet. They bear fruit within the first couple of years, making them an attractive option for gardeners looking for a quick, easy harvest. To ensure successful pollination, choose another apple variety from the recommended pollinators list. Experience the convenience and beauty of Stark Bro's columnar apple trees and enjoy delicious homegrown fruit in your own backyard.
---
Budget Columnar Tree
North Pole Arborvitae
Sometimes, the ability to find and select the best columnar trees for your landscaping comes down to what you can afford. Columnar trees are not always cheap, and the price can add up quickly when you need more than one you're your landscaping needs.
For folks who are looking to purchase one or more columnar trees to add to their home garden without breaking the bank, we recommend the North Pole Arborvitae as one of the best columnar trees you can get on a budget.
Not only is this quite the affordable columnar tree variety, coming in at roughly half of what many of its contemporaries sell for, but at a glance, you can see that this variety sacrifices no beauty for the price!
The North Pole Arborvitae has much of the classic columnar shape and shade, remaining narrow and upright with no need for pruning.
This tree stands at 15 feet when fully mature and can be planted directly or in a container. Whatever your needs, this wonderful columnar variety will fit in your yard—and your price range—without any hassle!
Pros
Low maintenance and easy to grow
A hardy variety that thrives in several growing zones
Affordable and adaptable to different landscape needs
Cons
Some customers have reported their columnar trees failing to grow to their mature height despite optimal growing conditions
---
Scarlet Sentinel Columnar Apple Tree
Some columnar enthusiasts out there may be looking not just for a great columnar tree for landscaping but for one of the best columnar trees for growing fruit! There are several types of edible columnar trees out there, including pears, apples, and more.
When it comes to sheer versatility, ease and speed of growth, and its ability to thrive in the broadest of climates from growing Zones 4 through 8, we recommend the Scarlet Sentinel Columnar Apple Tree as the best edible columnar tree.
This beautiful apple tree is a compact but lovely columnar, fruiting in 3 to 5 years and standing at 10 to 12 feet when fully mature. It adds a blush of vibrant color to landscaping and produces crisp, fleshy red apples with a white interior.
Anyone on the hunt for one of the best columnar trees for both landscaping and fruit will find themselves delighted by what the Scarlet Sentinel Columnar Apple Tree has to offer!
Pros
A fantastic, vigorous apple tree
Produces an early harvest each year
Attractive for landscaping with deep green leaves, bright red apples, and beautiful white blossoms in the springtime
Compact, can be grown in containers or directly planted in the soil
Apples are delicious and great for raw snacking, baking, or turning into juice or cider
Cons
Sizes may vary, with some trees being notably larger than others from distributor to distributor
---
Dee Runk Boxwood
Home gardens of all kinds will vary in terms of size. But if you are looking for one of the best columnar trees for a smaller garden, you may find yourself on a long and even disappointing hunt!
You need a columnar that will help hedge in your garden without compromising any of the necessary sunlight your plants require to thrive. Keeping this fine balance in mind, we recommend the Dee Runk Boxwood as one of the best columnar trees for smaller gardens.
This narrow columnar variety reaches only 8 to 10 feet at full maturity. It makes for great hedging columnar and can be sculpted and trimmed to suit your garden's needs.
As this columnar is unattractive to deer, you have no need to worry about your garden landscaping inviting them too close to your plants. And as it is also pollinator friendly, the Dee Runk Boxwood can help bring in the kind of help your garden needs to thrive each year!
Pros
A smaller columnar variety, ideal for smaller gardens
Great for hedging
Fast growing compared to other boxwood columnar varieties
Less risk of blocking sunlight for garden plants as opposed to some other columnar trees
Cons
Slower growing than other columnar varieties, adding only about 6 inches per year
---
Things to Consider When Choosing the Best Columnar Trees for Home Gardeners
There are many things to consider when it comes to choosing the best columnar trees. Here are things we believe should be taken into consideration while you're shopping.
---
Edible Or Decorative Columnar Tree
It is important to know that columnar trees vary in type and use! Some columnar trees, such as evergreens, are only for landscaping. Others are fruiting trees. While the fruiting varieties can certainly enhance your landscaping, they will do so very differently from a classic evergreen columnar.
When choosing the best columnar trees for your particular needs, be sure that you take time to research whether that particular columnar is a fruiting variety or not.
---
Conditions
Different columnar tree varieties do well in different growing zones. While many do well in central zones with moderate climates, the warmest and coldest areas may not be suitable for certain columnar.
When selecting the best columnar trees for your garden or landscape, it is always important to ensure you are selecting a variety that will thrive in your particular growing Zone.
---
How Many Columnar Trees Will You Need
Because of their tall, narrow build, columnar trees often make for a compact hedge that is ideal for privacy and windbreaking.
However, it is also important to be aware that this narrow build and the necessary spacing to avoid overcrowding will factor into how many columnar trees you will need for your particular landscaping needs.
Before selecting and purchasing your columnar trees, measure the space where you intend to plant them accurately. Then, double-check the mature spread and planting distance of your columnar tree of choice.
This will help ensure you can purchase the necessary number of columnar trees to complete your gardening project.
---
Maintenance
For the most part, columnar trees are very low maintenance and tend to be quite hardy. However, certain varieties may need more watering, different sunlight exposure, different soil, and more attention than others.
This can vary between edible and landscaping columnar as well. Always be sure to research your preferred columnar and learn its needs, so you can be sure your gardening space can adequately meet them.
---
Columnar Tree FAQ
How Do I Care for My Columnar Tree?
Various types of columnar trees have all different kinds of needs. In general, they will need low to moderate watering, and some evergreen varieties might require protection from the stronger summertime sunlight. Some may also require some pruning to thrive truly.
Be sure not to plant your columnar trees too close together, as there will not be enough nutrients to go around. If you are potting your smaller columnar trees, you will want to make sure you have an adequately sized container and that they have access to sunlight and water.
For detailed care instructions, be sure to research your columnar tree variety of choice and do your best to meet its individual requirements for soil, watering, spacing, and more.
---
Wrapping up the Best Columnar Tree for Home Gardeners
Ready to purchase the best columnar trees for your home garden and craft an unforgettable landscape? Before you get started, be sure to check out our Fruit Trees page. This is a great resource to help ensure you have all the knowledge you need to get your columnar trees started off on the right foot.
Want more garden content? Visit our gardening page for in-depth guides, explainer posts, and great ideas!